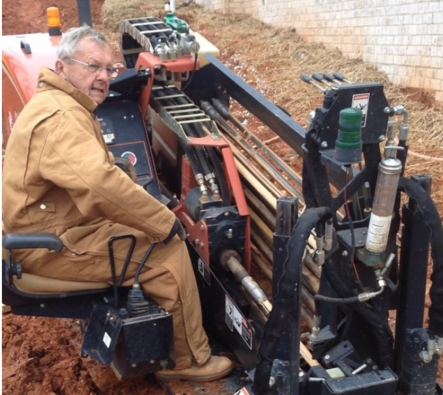 Established in 1977 by James N. DeLamar Sr., GMC Underground (General Maintenance Contractors of East Alabama, Inc.) began its journey as a humble enterprise specializing in the installation of underground utilities such as gas, water, and power. The company swiftly gained recognition for its precision and excellence in utility construction operations, laying a strong foundation for future success.
In 1987, James N. DeLamar Jr., following in his father's footsteps, joined the company, infusing it with a new generation of passion and dedication. As the years passed, GMC's reputation flourished, and in 1990, the company secured a milestone contract with the Alabama Gas Corporation, becoming the exclusive provider of natural gas services in East Alabama.
The partnership with Alabama Gas Corporation marked a turning point in GMC's trajectory, propelling it to become the primary service installation contract holder and the secondary main contract holder for East Alabama with Spire Energy (formerly Alagasco and Alabama Gas) since 1990. This recognition of our capabilities and commitment to excellence fortified our position as a trusted leader in the natural gas distribution industry.
With unwavering dedication to delivering top-notch services, GMC reached another milestone on November 16th, 2005, when the company officially became incorporated. This momentous event paved the way for even greater opportunities to serve our community and beyond.
While the passing of James N. DeLamar Sr. in 2014 was a hard moment for GMC, his legacy lives on through his son, James N. DeLamar Jr., who took the helm as President. Guided by the values instilled by our founder, GMC has flourished under James Jr.'s leadership, expanding our operations and personnel to meet the ever-growing demand for our services.
Year after year, GMC Underground has continued to build upon its success, and our growth can be attributed to our steadfast commitment to our core values: fairness, discipline, and the pursuit of excellence in all aspects of our business and operations. These values form the bedrock of our organization, inspiring us to provide exceptional utility construction solutions and earn the trust of our clients.
Today, as we reflect on our rich history, we take immense pride in the strong partnerships we've forged and the communities we've served. GMC Underground remains dedicated to delivering outstanding utility construction services, ensuring a brighter and more efficient future for Alabama.
Join us on our journey as we continue to lead with innovation, integrity, and a passion for service – because at GMC Underground, we don't just dig underground; we build lasting relationships above ground.
Paxton DeLamar
Vice President
---
Corey Lyerly
Office Manager
---